An introspective anniversary with the Tudor 58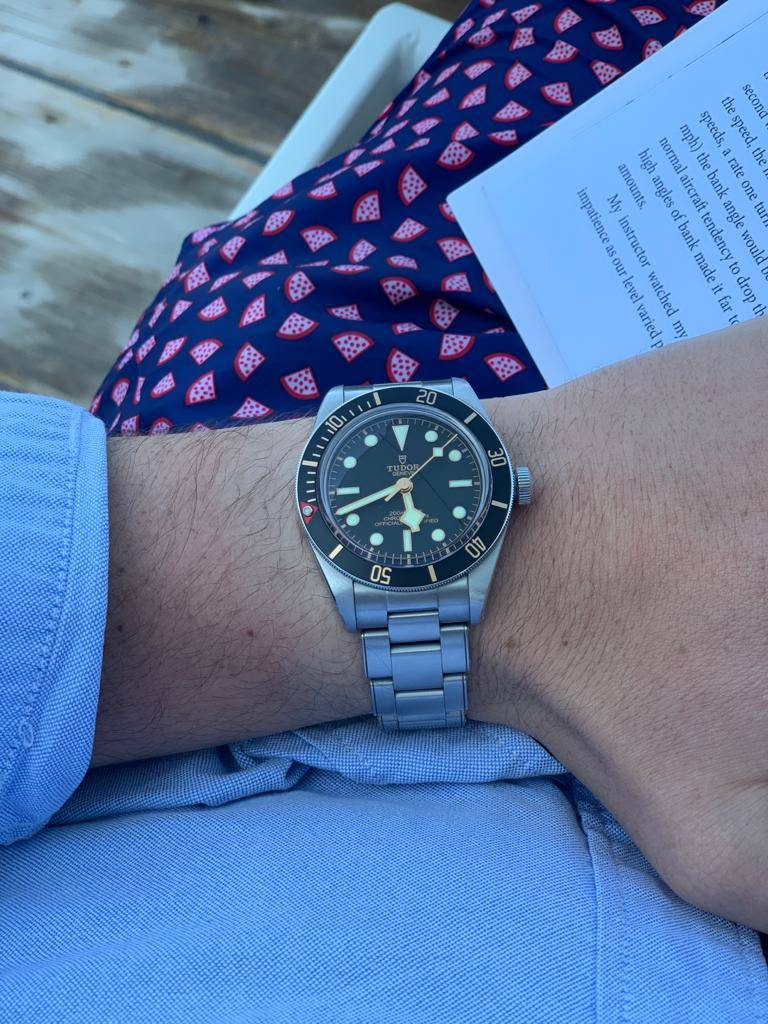 Unwinding – An introspective anniversary with the Tudor 58:
I'd fallen out of love.
Little over a year ago I had the opportunity to pick-up, what was back then and perhaps still is now, one of the more sought-after Tudors on the market. The Tudor Black Bay 58 (reference: 79030N).
With the timing coinciding with a special occasion, my partner and I drove into one of our local AD's to seal the deal and pay up. It was my birthday, not one of significance, but an occasion for which I could at least feel a little less guilty. I was about to head overseas on a holiday with a friend and the idea of travelling with the watch excited me. A part of the allure I guess of a tool/sports watch is the confidence that you could knock it around and it would – with some care – be able to pull through.
At this point I should say that I work in the industry – and so yes, getting my hands on the watch back then was a little easier, but not much more so than any punter walking in and adding their name to the list. This point, however, more so relates to how this spiel started. I'd fallen out of love. You hear about this sometimes on forums from people who are passionate about watches and also work in the industry, or perhaps have close ties. Like a magician revealing their tricks, the magic is somehow lost. The lustre - dulled. I noticed this too, when going to purchase the 58'. The excitement was somewhat missing, a sharp contrast to additions made not long prior. This is not at all to say I wasn't grateful or that I was simply acting in motion – seeking to fill a missing something, I truly loved this watch.
Released in 2018 the Tudor 58' (reference: 79030N) was greeted with a wave of applause from both fans of the Black Bay line and enthusiasts alike. It's smaller 39mm case diameter and thinner case profile was beyond many peoples expectations. For years people spoke publicly through forum threads and YouTube videos about how great it would be to see such changes. But would they ever listen? This release said it all. They've been listening from afar and coming from a house as big, discreet and secretive as Rolex/Tudor spoke volumes. In no small part are we as watch lovers insignificant, whether full or part-time. Your input does matter. Retailers and brands alike do care. You are their market by and large. Their loyal followers and their best brand ambassadors.
You see the decision to purchase this watch wasn't on its looks or mechanical merits alone. It was a part of something bigger. The Black Bays launch back in 2012 was a response to a change sweeping the industry – something which is still occurring to this day. The 58's release was added confirmation. We the watch geeks do, in some part, steer the ship.
And so, the months of ownership rolled on by. The watch, rarely leaving my wrist, performed flawlessly and I had hardly noticed it was there. Through the ups and downs of daily routine to the throws of Basel2020 being cancelled and COVID, to being stood down as the industry I had once loved bled heavily. I reflected. My Tudor, pridefully on wrist, offered an anchoring thought. We, our brothers and sisters spread across the globe, had incurred a significant change within the industry. It's you the reader, the people who make this community so great. The online friends, the local groups, the people of a shared passion uniting as one. I'm in love again. How great it has been to be gifted such reflection.
David.
Drop your email below to stay up to date with our latest releases and news